Cancer meeting held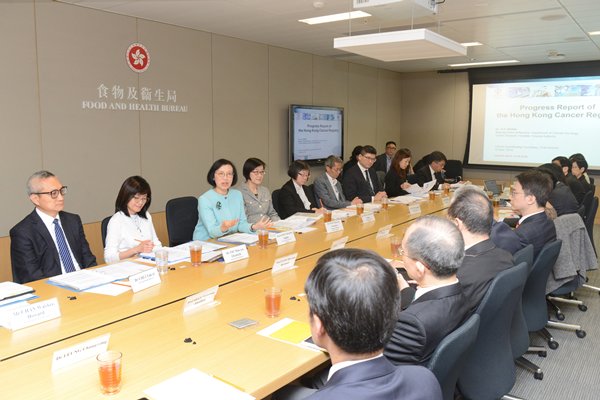 Secretary for Food & Health Prof Sophia Chan chaired the 12th Cancer Coordinating Committee meeting today.
Members reviewed cancer prevention and screening, treatment, surveillance and research work.
The committee endorsed the updated recommendations of its Cancer Expert Working Group on Cancer Prevention & Screening.
Based on those recommendations, the Government will consider the feasibility of their implementation, taking into account the resources available in the healthcare system, manpower and supporting facilities, and public acceptance.
The committee also reviewed the population-based cancer data for 2015 as well as the incidence and mortality trends, and projections of major cancers in Hong Kong.
Prof Chan said: "In view of the overall rising cancer burden as well as trends and projections in incidences of different cancers, the Government will implement relevant aspects of cancer work in a more strategic, co-ordinated and proactive approach in order to cope with the challenges imposed by the cancer burden on population health and society at large.
"Members agreed the Government should consolidate and enhance a comprehensive strategy on cancer prevention and control."
The committee said lifestyle risk factors like smoking, alcohol use, unhealthy diet, physical inactivity and obesity are closely related to cancer.
It supported the Government's strategy in promoting cancer prevention awareness through the mass media and social media, as well as collaboration with community partners.