Nicholas Yang visits Eastern District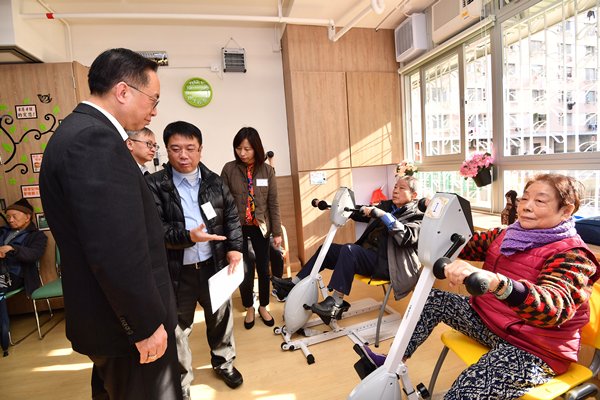 Secretary for Innovation & Technology Nicholas Yang today visited an elderly centre and two innovation and technology enterprises in Eastern District.
He first met Eastern District Councillors to discuss district development and I&T matters.
He then went to the Society for the Aged Chai Wan District Elderly Community Centre to learn about its support for the elderly and their caregivers, and its adoption of technologies to enhance its services.
Mr Yang offered hygiene gift packs to the elderly and reminded them to stay vigilant against influenza.
The society's "Love-your-brain" website gives advice on brain fitness for seniors, with online brain training games. It also uses virtual reality technology to help the elderly in muscle fitness, and digital ambassadors at the centre teach the elderly how to use tablet computers.
Mr Yang said the Government strives to promote digital inclusion. In the third round of a technology outreach programme for the elderly last year, the scheme was extended to include those with dementia.
The Innovation & Technology Fund for Better Living launched last year, subsidising I&T projects that can benefit the elderly.
At the relaunched co-working space "blueprint", Mr Yang learned about the evolving needs of startups and various enterprises for flexible co-working spaces, and chatted with local and overseas startups there.
Mr Yang also visited Facebook's Hong Kong headquarters where he gained a better understanding of the company's business development from its senior management.
He was glad to learn of Facebook's investments in submarine cable networks linking Hong Kong with California.
He said increasing connectivity will reinforce Hong Kong's competitive edge as a data hub, adding he looks forward to co-operating with Facebook in light of the growing role of the digital economy.