Chief Executive CY Leung
Building on our previous success to strive for an even better future, we, Hong Kong people of this generation, shoulder an important and epic responsibility. In the coming half year, I and the HKSAR Government will continue to work with full dedication for the overall long-term interests of Hong Kong.
Full Story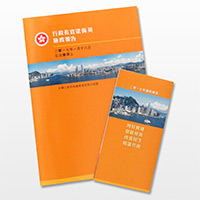 Chief Executive CY Leung
In the past four years, the Government has made full efforts to alleviate poverty, care for the elderly, support the disadvantaged and encourage employment. Over these four years, earnings for the employees in the lowest three income decile groups have increased by 5.2% after discounting inflation. The number of Comprehensive Social Security Assistance cases has continued to drop and the poor population is shrinking.
Full Story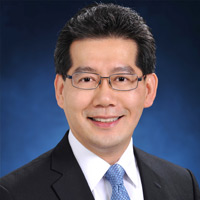 Secretary for Commerce & Economic Development Gregory So
With the vibrancy and entrepreneurial spirit the city is famous for, Hong Kong has a good environment and all the ingredients to facilitate this whole new generation of disruptors to create, test, show and launch their new businesses, right here in our city. Hong Kong has been ranked as one of the fastest growing startup hubs in the world and it has become a hotbed of innovation and a hub for ideation to commercialisation.
Full Story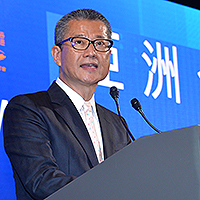 Financial Secretary Paul Chan
Hong Kong has the capital, the connections, the products and the expertise to serve as the financial and investor services hub for the Mainland's Belt & Road initiative. Encompassing some 65 nations spanning Asia, Europe, the Middle East and Africa, the Belt-Road is perhaps the 21st century's most ambitious multilateral undertaking. And Hong Kong will take very good advantage of it.
Full Story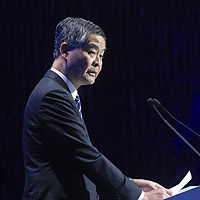 Chief Executive CY Leung
Today, no one questions "one country, two systems", "one country, two currencies", "one country, two legal systems" or "one country, two passports". If anything, we only stand to gain from "one country, two systems". It has become our strength, our niche. It enables our city to enjoy the best of both worlds. We are part of China and enjoy the "China advantage", benefitting from all the opportunities that come with the Mainland's development. At the same time, we practise, so to speak, "the other system" that is separate from the Mainland cities. We enjoy the free movement of trade, capital and information, the rule of law, as well as a simple and low tax regime.
Full Story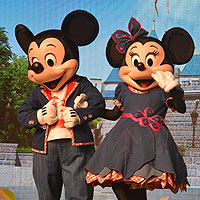 Chief Executive CY Leung
The Government will, as always, support the development of Hong Kong Disneyland and the tourism sector. Joining hands with the industry and the community, we will strive to promote diversified and high value-added tourism, and boost Hong Kong's standing as a premier destination for tourists all over the world.
Full Story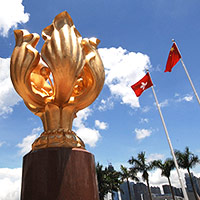 Chief Secretary Carrie Lam
The Hong Kong SAR 20th anniversary is not only an occasion for joyful celebration, but also an opportunity for us, our young people in particular, to learn and explore and appreciate the uniqueness of Hong Kong. I hope that through the diverse anniversary activities, all people, especially our young people, can better appreciate the historical background leading to Hong Kong's present status as a unique Special Administrative Region in China, and how the city has continued to thrive despite various challenges over the last 20 years.
Full Story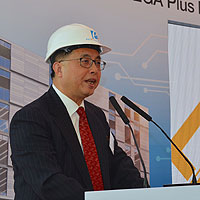 Secretary for Innovation & Technology Nicholas Yang
Hong Kong's pro-business environment, sound legal system, and free flow of talent and information give us the competitive edge to become the region's premier data centre hub. With our added advantages under "one country, two systems" and opportunities arising from the Mainland's Belt & Road Initiative, Hong Kong is best positioned to develop into a regional data centre hub for hosting, storage and processing services.
Full Story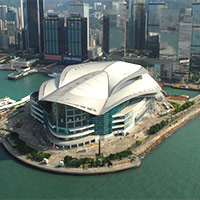 Chief Executive CY Leung
The Trade Development Council has helped steer Hong Kong's transformation from a low-cost production centre to a global financial, trading and logistics hub. As we look to a future propelled by innovation, TDC is there.
Full Story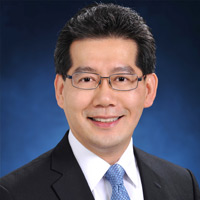 Secretary for Commerce & Economic Development Gregory So
We are stepping up promotion of Hong Kong fashion designers and brands, strengthening technical support and training for fashion designers, and will soon launch a dedicated incubation programme to groom fashion talents. In formulating support measures, we established and consulted the Advisory Group on Implementation of Fashion Initiatives, comprising mainly of members of the fashion industry.
Full Story