Chief Secretary Matthew Cheung
Speaking of nurturing youths, the Government has spared no efforts in establishing Hong Kong's position as a talent hub. The Chief Executive, Mrs Carrie Lam, proposed in her Election Manifesto an immediate increase of recurrent education expenditure by $5 billion a year.
Full Story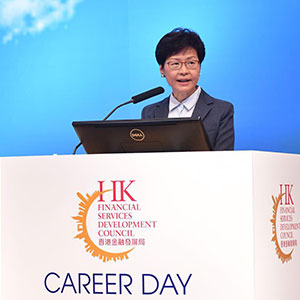 Chief Executive Carrie Lam
In my Policy Address delivered last week, while I emphasised the importance of diversifying our economy by developing innovation and technology as well as creative industries, I also made it clear that the Government will reinforce and enhance our financial services sector. 
Full Story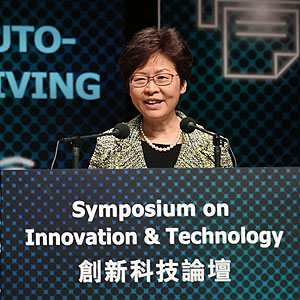 Chief Executive Carrie Lam
An innovation-driven economy will help enhance the competitiveness of Hong Kong and drive sustainable economic growth. We need all the stakeholders, that is, the Government, industry, academia and the research sectors, to collaborate and co-create to make this happen.
Full Story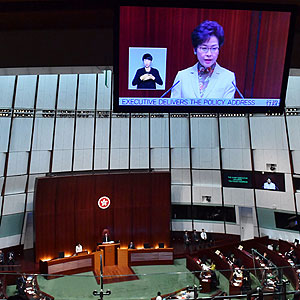 Chief Executive Carrie Lam
My vision is for a Hong Kong of hope and happiness – a city we are all proud to call our home. I see a vibrant international metropolis that is just, civilised, safe, affluent, enjoys the rule of law, compassionate and well‑governed. To achieve this vision, we need to have a society that is united, harmonious and caring. This vision is not, in reality, that far off. In fact, it has been Hong Kong's way to success for more than half a century. We have not lost our intrinsic advantages. Hong Kong people are still brilliant and the Hong Kong spirit has not been eroded.
Full Story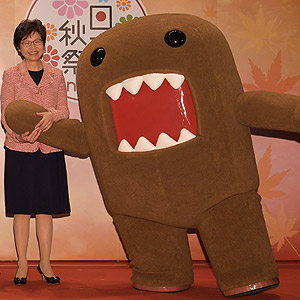 Chief Executive Carrie Lam
Hong Kong is among the favourite destinations of Japanese travellers. In the first half of this year, we welcomed about 580,000 Japanese visitors, up 17%, year-on-year. This continuing stream only feeds the friendship and understanding that have long marked relations between our two peoples.
Full Story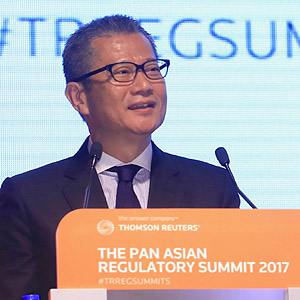 Financial Secretary Paul Chan
I cannot emphasise enough the importance of collaboration between the Government, financial regulators and the industry in achieving the right balance between risk and regulation. We have made some good progress and we will continue to enhance the resilience of the financial markets while promoting market development and protecting and educating the public and investors.
Full Story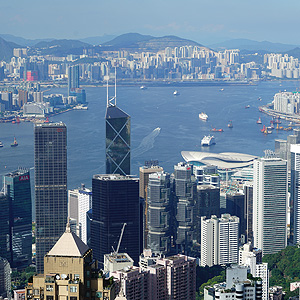 Financial Secretary Paul Chan
The Government is sparing no effort in enhancing Hong Kong's competitiveness as the global financial centre in Asia. Going forward, the Government will play a more active role as a facilitator and promoter in furthering Hong Kong's economic development.
Full Story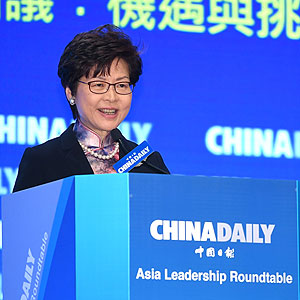 Chief Executive Carrie Lam
Hong Kong is best positioned within the bay area to play a key role in turning the Belt & Road vision into business opportunities. All these opportunities, provided they are seized in a timely and proactive manner, will translate into tangible benefits for enterprises and professionals in Hong Kong.
Full Story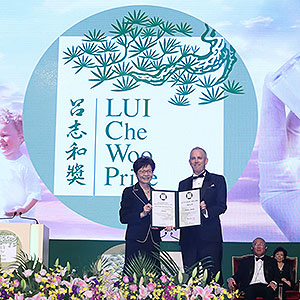 Chief Executive Carrie Lam
Regarding content of the Policy Address, of course, I cannot give much away as yet. However, I can assure you that my policies will be guided by core values that we all share: strengthening education, caring for the disadvantaged and promoting an inclusive, harmonious and proactive community.
Full Story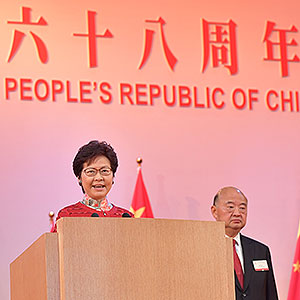 Chief Executive Carrie Lam
As long as we capitalise on our strengths, stay focused, seize the opportunities before us and stand united, I am sure that Hong Kong can reach even greater heights. I also believe that this "Pearl of Orient" of our country will continue to shine, contributing to the development of our country and becoming an even better place to live in.
Full Story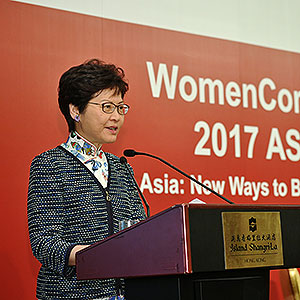 Chief Executive Carrie Lam
I firmly believe that the Government should help women enter, or remain, in the workforce, creating conditions that allow them to maintain a work-life balance. To that end, the Government is enhancing childcare and elderly services support, strengthening training and employment services and promoting family-friendly employment practices.
Full Story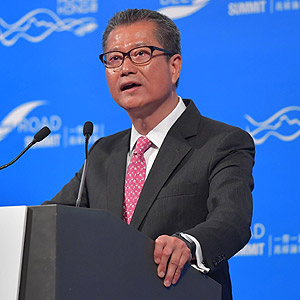 Financial Secretary Paul Chan
Open, fair, transparent and international are in fact the indispensable building blocks of Hong Kong's success in the global economy; success forged on free trade, as well as on the free movement of capital, goods, talent and information in and out of Hong Kong. Our open and fair market treats all companies the same regardless of size or origin. Our infrastructure is world-class. Our professional services are top-notch. All these, underpinned by a common law legal system with a fine tradition of rule of law and independent judiciary, have attracted more than 8,000 foreign and Mainland companies to set up their offices in Hong Kong, including 75 of the world's 100 largest banks.
Full Story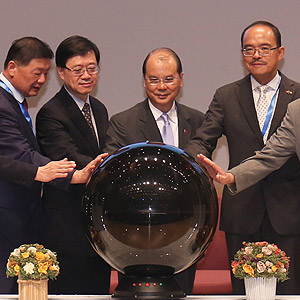 Chief Secretary Matthew Cheung
All correctional authorities around the world share the mission of protecting public safety and safeguarding law and order in their respective communities. Over the recent decades, the world has been facing unprecedented challenges in the areas of national security, cyber-attacks, cultural conflicts and so on. Looking ahead, concerted efforts from different countries and regions are required on a long-term and sustainable basis. Hong Kong, as a citizen of the global community, will join hands with the rest of world to tackle the challenges confronting us head-on.
Full Story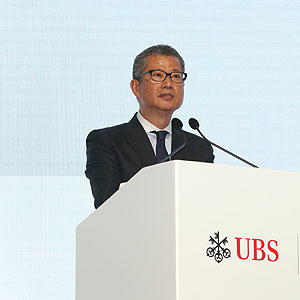 Financial Secretary Paul Chan
The Guangdong-Hong Kong-Macao Bay Area will appreciably enhance Hong Kong's strategic role in the Mainland economy. As the bay area's leading international financial centre, Hong Kong has the expertise and experience to help bay area companies "go global". Hong Kong companies are also well positioned to join up with Mainland companies in their pursuit of international expansion.
Full Story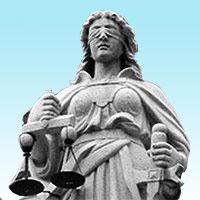 Chief Justice Geoffrey Ma
It is in these circumstances that the Bar has spoken out in defence of the Hong Kong legal system by explaining to the public the importance of the rule of law in Hong Kong. Both the Bar Association and individual barristers have spoken out and I have no doubt will continue to do so. This ought not be a matter of any controversy at all, because the fundamentals of our legal system are contained in the Basic Law itself. Yet it is still important for the public to be properly informed as to these issues.
Full Story