At School, At Work
Disabled staff, employers commended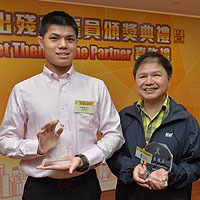 (December 01, 2015)
The Social Welfare Department held an award presentation ceremony today to commend outstanding disabled employees and firms who employ disabled staff. 
Nine businesses were commended for building a caring and harmonious workplace, and accepting and supporting disabled staff. 
Nine people were awarded as Outstanding Disabled Employees to encourage them to continue to develop their confidence, work dedication and self-reliance. 
The department said it is glad many employers are supporting disabled employees and arrange appropriate working hours and positions for them. 
At the same time disabled employees can acquire vocational skills and integrate with society through vocational rehabilitation training, which enables them to join related industries and develop their potential. 
The department has been helping disabled people enter the job market, granting more than $92 million to non-government organisations to set up small enterprises to create more than 751 job opportunities for them. 
It also launched the Support Programme for Employees with Disabilities in 2013 to provide employers a one-off subsidy for purchasing assistive devices and workplace modifications for disabled staff.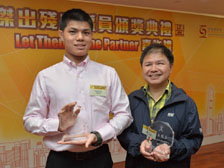 Talent unleashed:  Disabled employees are commended at the Social Welfare Department award presentation ceremony.