Foolproof flood control
(March 12, 2017)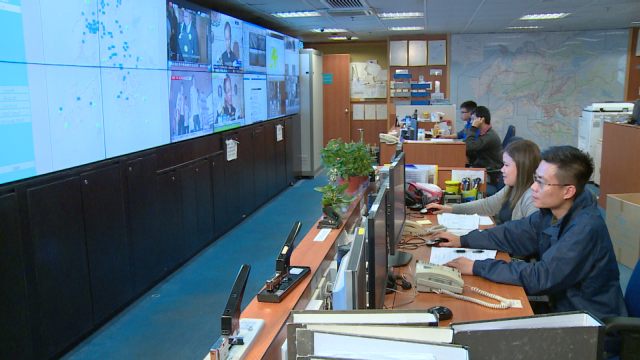 Hong Kong's subtropical climate makes it humid and typhoon-prone. 
When particularly heavy rainstorms hit the city, flooding may occur in low-lying areas in the New Territories, and some old urban areas. 
The Drainage Services Department has put in place a series of flood control measures. 
Operating around the clock, its Emergency Control Centre responds to residents' flooding reports, assesses flooding risks and informs other Government departments to evacuate and rescue affected residents in time. 
Under normal weather conditions, it serves as a hotline centre to handle drainage enquiries from the public. 
Contingency response
In times of inclement weather including the hoisting of Red or Black Rainstorm Warning Signal, Typhoon Signal No.8 or above or the Special Announcement on Flooding in the Northern New Territories, extra manpower is deployed at the centre to oversee flood control measures across the city. 
To help with flood risk assessment, rows of television screens at the centre show real-time images of the city's main river channels and watercourses. 
The data-collecting instruments installed at flood-prone sites also send back to the centre information on rainfall and tide levels, allowing monitors to analyse flooding risk quickly. 
Moreover, contingency teams are put on standby at flooding black spots so inspections and drain clearance can be conducted promptly. 
Public monitoring
Drainage Services Department Chief Technical Officer Sammy Lai said the public's instantaneous reports on flooding help with their work. 
"Usually we receive complaint calls from citizens. But nowadays with Facebook, such social media is very useful. When citizens spot a flooding case within their location, they will take photos as well as videos, and post them on Facebook. We can instantly spot the location of the flooding case." 
While people call during the rainy season to ask about flood control measures, the centre also receives a lot of enquiries during winter as oil from household waste condenses inside pipes, leading to blockage, Mr Lai said. 
"Washing dishes and remnant food disposal at home allow oil to flow into sewage pipes. If the weather is cold, the oil condenses in the pipes and slows down water flow. Some oil can stick inside the pipes and cause obstruction." 
Pipe supervision
Besides handling emergency flooding cases and public enquiries, the department also maintains more than 4,500 km of drainage and sewage pipes across the city. 
After about 30 years of wear and tear, many of the pipes in old districts are in poor condition. If left unattended, the pipes will burst, leading to road collapse and endangering public safety. 
Therefore, regular inspections and maintenance work are done on the pipe network in the city. 
Advanced techniques
There are two ways to repair old pipes. 
The traditional one involves the removal of road surface to replace the pipes, and traffic will be affected. 
Used more in recent years, the other method is called CIPP or cured-in-place-pipe. 
For this method, in-situ reinforcement works are done on the pipes without much road removal and traffic obstruction. 
Drainage Services Department Engineer Frankie Leung said in-situ projects take a much shorter time to be completed than the traditional method. 
"Take a 10-metre-long drain as an example. If we use the traditional repair method which requires road removal, the project will take at least three months. 
"We use compressed air to insert the soft lining material into the manhole and then along the pipe until the lining material reaches the downstream manhole. 
"[We] inject some steam or hot water into the soft lining material, and [it takes] one to three hours [for the] hardening process [to be completed]. 
"After that the liner will become a very strong pipe within the existing pipe that is to be rehabilitated." 
However, CIPP technology can only be used on drained pipes with no water going through them. 
To repair water-carrying pipes in use, the department introduced another in-situ repair method last year called spiral wound rehabilitation technology. 
It was used to repair two sewer sections stretching 115 metres under Waterloo Road in Kowloon West. 
Engineers are now using this new technology to repair a sewage pipe under Salisbury Road in Tsim Sha Tsui and works are expected to be completed by March.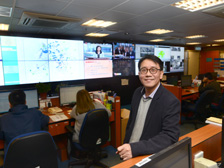 Citizen news:  Drainage Services Department Chief Technical Officer Sammy Lai says the public's instantaneous reports on flooding help with their flood control work.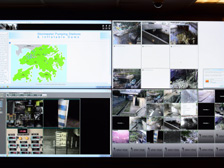 Real-time monitoring:  The centre boasts rows of television screens showing real-time images of the city's main river channels and watercourses for flood risk assessment.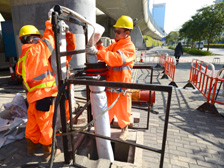 Ditch digging:  Workers use the cured-in-place-pipe technology to repair a 10-metre-long drain in Kowloon Bay.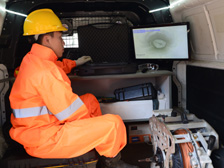 Pipe visuals:  An on-site staff member uses a camera to monitor the injection of soft lining material into a pipe.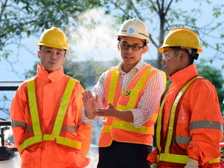 Minimal impact:  Drainage Services Department Engineer Frankie Leung (centre) says both cured-in-place-pipe and spiral wound rehabilitation technologies reduce the time and extent of road closures needed for repairs, minimising traffic disruption.